Sweeping Service in Murfreesboro / Greater Nashville, TN
Your Murfreesboro / Greater Nashville, TN Sweeping Services Company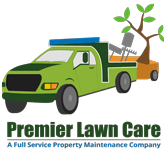 Premier Lawn Care
1866 Old Tullahoma Hwy
Manchester, TN 37355
CALL US: 1-800-758-1381
Don't be fooled by our name! Premier Lawn Care has been serving Murfreesboro and the Greater Nashville area with parking lot sweeping, blacktop seal-coating, infrared repairs to asphalt, line-stripe painting and parking lot lighting maintenance since 1994.
In addition, during winter months, we service Murfreesboro and Greater Nashville customers with expert snow and ice management.
Parking Lot Sweeping
In today's extremely competitive market, property managers cannot afford to present a tarnished image caused by cutting back on exterior maintenance. Regular sweeping and maintenance of parking areas contributes to an overall positive outside appearance. When your parking area is clean to begin with, shoppers and even your own employees are less likely to throw trash out of their cars when they park.
Premier Lawn Care offers a complete program to restore worn and overworked pavement surfaces. Technicians will assess the existing condition of your pavement and create a customized maintenance plan. In addition to parking lot sweeping our services include infrared asphalt patching, seal coating, line striping, and crack filling. We also perform drain and catch basin repair.
Our crews are some of the most highly trained and skilled in the industry with the experience, processes, and technology to deliver consistent high-quality services that keep your facilities looking their best.
Premier Lawn Care is a member of NAPSA (North American Power Sweeping Association), PRSM (Professional Retail Space Management), and SIMA (Snow & Ice Management Association). Contact us today for a timely, no-obligation quote.
SWEEPING SERVICES WE PROVIDE IN MURFREESBORO / GREATER NASHVILLE, TN
Infrared Asphalt Patches
Parking Area Line Striping
Parking Lot / Exterior Lighting
Parking Lot Sweeping
Seal Coating
Steel Bollard Installation
Certifications and Affiliations

GET AN ESTIMATE TODAY
Call Us: 1-800-758-1381
or send in the form below
Street sweeper service throughout the Murfreesboro / Greater Nashville Tennessee metro area including:
Antioch, TN
Brentwood, TN
Franklin, TN
Gallatin, TN
Goodlettsville, TN
Hendersonville, TN
Hermitage, TN
La Vergne, TN
Lebanon, TN
Madison, TN
Mount Juliet, TN
Murfreesboro, TN
Nashville, TN
Smyrna, TN
Springfield, TN