Street Sweeping and Parking Lot Sweeper Equipment Rentals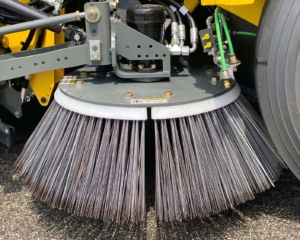 Renting parking lot sweeper equipment is one of the three main ways to get the right equipment for the job. The other two are:
1) to purchase the equipment outright or
2) to hire a power sweeping service company.
Industry wide the most common approach is to hire a power sweeping service. This approach combines access to state-of-the-art equipment with trained, experienced operators to do the sweeping. And in those cases where you already have access to a trained operator, renting standalone equipment, often referred to as a "bare rental", may be the best choice.
Type of Street Sweeping and Power Sweeping Equipment You Can Rent
There are different types of power sweeping trucks you can rent. The type you choose should be based on the requirements of your job.
Broom Sweeper Trucks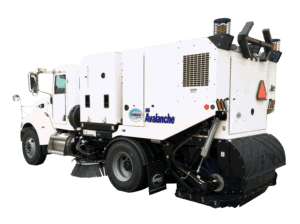 Broom sweeper trucks are a good choice for:
Construction Clean-up
Construction Track-out Sweeping
Pavement Milling Sweeping
Street & Highway Sweeping
Chip Seal Sweeping
---
Vacuum Sweeper Trucks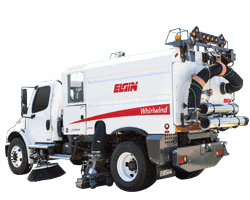 Vacuum Sweeper Trucks are a good choice for:
Road Construction Sweeping
Construction Track-out Sweeping
Catch Basin Cleaning
Municipal Street Sweeping
Paving Contractor Sweeping
---
Regenerative Air Sweeper Truck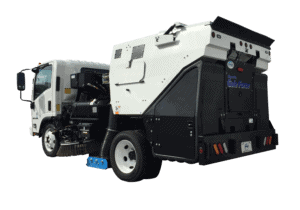 Regenerative Air Sweeping Trucks are the best choice for:
Commercial & Industrial Fugitive Dust Control Sweeping
Municipal Street Sweeping
Parking Lot Sweeping
Warehouse Sweeping
---
Other Sweeping Equipment for Rent
---
Questions to Ask Before Renting Power Sweeping Equipment
What tradeoffs are you willing to make?
There's always a tradeoff between owning vs. renting your equipment. For example:
When you own your own equipment, you are also responsible for high industry maintenance costs, power sweeping equipment performs demanding work. In addition, insurance and specialized mechanics are an additional on-going cost.
When you rent your equipment, you must coordinate schedules with the rental company during the busy season or might not have the type of equipment for the job in their inventory.
Rental companies are not sweeping experts, consequently they may not give the best advice on the type of equipment you need to complete your job.
Owning sweeping equipment allows you to respond immediately to emergencies rather than having to contact a rental company to check their inventory for the needed equipment and then having to go pick it up at their location.
Make sure you understand and are willing to accept any tradeoffs you'll have to make.
Click here to contact us for street sweeping and parking lot  sweeping services.