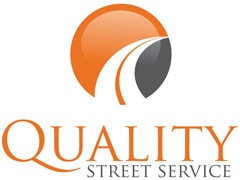 About Us
Quality Street Service
Quality Street Service was established in 1989 as a street sweeping service and has grown into a full-service pavement cleaning company with a fleet of modern equipment servicing the Coachella Valley, Inland Empire, San Gabriel Valley, Orange County, and the Los Angeles basin.
The exceptional list of clients we have developed and kept over the past three decades is a true testament to our company's ability to provide your property with a customized service structure, tailored to meet your specialized needs at a competitive price.
Our fleet of current model street and parking lot sweepers includes various types of technology allowing us to provide services for any sweeping need. Our entire fleet of equipment is 100% California Air Resource Board (CARB) Certified, 100% AQMD certified and meets all PM10 standards for fine particulate containment.
Whether you require monthly, weekly or a one-time cleanup, you can be sure Quality Street Service will provide your facility with service second to none.  Our staff is dedicated to ensuring your property always looks its best. Our support staff includes full time service and maintenance personnel to ensure our equipment is operating at peak efficiency. We are equipped to service units in the field to ensure maximum uptime.
If you need immediate service for your job site, a monthly service for a community association, or just a one-time clean up, we've got you covered. For a service proposal tailored to meet your specialized needs at a competitive price, call us or fill out the RFQ form today.
Partner Certifications and Affiliations

Quality Street Service
1884 E Woodlawn St
Upland, CA 91786
Get an Estimate Today
To expedite your service request, call 1-800-793-3737 or
submit the form below
Major Metro Areas Served by Quality Street Service Include: