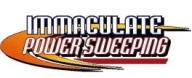 About Us
Immaculate Power Sweeping, LLC.
Family owned and operated Immaculate Power Sweeping, LLC has served the parking lot sweeping, street sweeping, and property maintenance needs in New Hampshire and Massachusetts since 1992. Immaculate Power Sweeping combines the region's most extensive, efficient and modern fleet of Schwarze S-Series sweepers, XORA time track GPS database technology, and a staff of professionally trained operators to make short work of  your sweeping service needs.
Immaculate Power Sweeping is a member of the North American Power Sweeping Association (NAPSA), and has been frequently honored as one of the nation's TOP 100 Sweeping Companies and as a TOP 100 Contractor by Pavement Magazine.
Whether you require one-time emergency service, or nightly, weekly, monthly, or quarterly sweeping programs, Immaculate Power Sweeping offers dependable and quality sweeping service for shopping malls and strip centers, property management companies, office parks, municipalities, schools, industrial complexes, apartment communities and HOA's, and more.
Services:
Nightly Litter Control Vacuum Sweeping
Mechanical Broom Sweeping
Porous Pavement Vacuum Sweeping
Road & General Construction Sweeping for Lowell Area Contractors
Municipal Street Sweeping
Industrial / Warehouse Sweeping & Scrubbing
Hauling and Disposal
Pot Hole Repair
Catch Basin Replacement / Rebuild
Partner Certifications and Affiliations

Immaculate Power Sweeping, LLC
1401 Mammoth Rd
Pelham, NH 03076
Get an Estimate Today
To expedite your service request, call 1-800-793-3737 or
submit the form below
Major Metro Areas Served by Immaculate Power Sweeping, LLC Include: