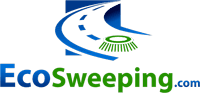 About Us
EcoSweeping Inc.
EcoSweeping Inc. has been servicing the Colorado Springs and Pueblo area since 1999. We specialize in parking lot sweeping of Retail, Office, Industrial, Government and Medical buildings. When it comes to sweeping, every business site has unique maintenance requirements. Because of differing job variables, we design a sweeping or portering maintenance plan that takes into account the priorities of safety, appearance and durability.
EcoSweeping is local to Colorado Springs and Pueblo, Colorado. We understand the specific environmental issues surrounding our region's stormwater runoff, dust mitigation and other environmental concerns that affect cleanup of your site.
EcoSweeping shares your desire to be good stewards of the Earth. You can rest assured that we understand both your sweeping needs and how to keep your company compliant with today's environmental regulations.
Our parking lot cleanup services divert thousands of pounds of dust and dirt annually, preventing that dirt from contaminating the air we breathe and the water we drink. Practicing pollution prevention by mitigating dust and debris shows your company's commitment to the environment, while simultaneously improving the appearance of your property.
Our Nite-Hawk regenerative air sweepers can hold up to four yards of debris and are equipped with satellite tracking systems as well as internal water systems to help reduce dust emissions while cleaning. These trucks are great for general parking area sweeping on lots that are mid to large size.
We also provide service using the Elgin Broom Bear Mechanical Sweeper for heavy road and construction sweeping. Whatever your sweeping needs, we have you covered!
Companies We Serve Include:
Albertsons
Burger King
CBRE
Kohl's
Target
Panera Bread
PetSmart
Safeway
Starbucks
Subway
Affiliate Certifications and Affiliations

EcoSweeping Inc. - Colorado Springs, CO
Get an Estimate Today
To expedite your service request, call 1-800-793-3737 or
submit the form below
Major Metro Areas Served by EcoSweeping Inc. Include: