About Us
Connor Sweeping Inc.
Connor Sweeping, Inc. provides street sweeping services throughout the entire state of Delaware as well as in adjacent communities in Pennsylvania, Maryland and New Jersey. We service the home building industry, commercial, industrial and retail complexes, municipalities and support heavy road construction including milling and paving. Whether your concern is maintaining the appearance and cleanliness of your commercial site, cleaning up debris at your manufacturing plant, or just general cleanup of your town or community, Connor Sweeping has the equipment, experience and service packages to solve your problems today.
Started in 2005, we have established a reputation for being responsive, dependable and flexible in our scheduling while maintaining the highest quality of service. Family owned and operated by Pat, Paul and Mike Connor, Connor Sweeping is dedicated to upholding our reputation for excellence and provide a 100% customer satisfaction guarantee.
SWEEPING SERVICES WE PROVIDE IN DELAWARE AND SURROUNDING COMMUNITIES:
Construction Site Sweeping
Heavy Road Construction for Milling and Paving
Parking Lot Sweeping
Municipal Road Sweeping
Community/HOA General Cleanup
Hazardous Material Cleanup
Partner Certifications and Affiliations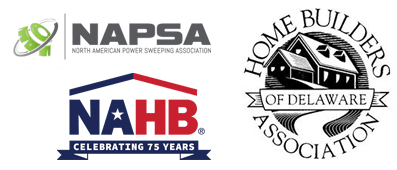 Connor Sweeping Inc.
2016 Sunset Lake Rd
Newark, DE 19702
Get an Estimate Today
To expedite your service request, call 1-800-793-3737 or
submit the form below
Major Metro Areas Served by Connor Sweeping Inc. Include: