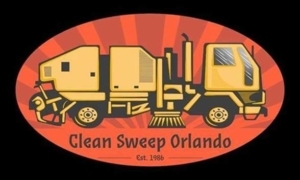 About Us
Clean Sweep of Orlando.
1-800-SWEEPER would like to welcome our new Partner servicing the Orlando, FL area, Mike Kirchner. Mike is the new owner of Clean Sweep of Orlando. Established in 1986, Clean Sweep of Orlando, Inc. offers everything from parking lot sweeping and porter services to general property maintenance.
Mike was in the corporate world for over 25 years and had no real knowledge of the sweeping industry. He knew he wanted to run his own business and when the opportunity arose to purchase Clean Sweep of Orlando in 2020, he jumped on it. "In my first year I have been continuously learning the business", says Kirchner. Clean Sweep is a small business right now but Mike has aspirations to grow.  Mike quickly learned, in order to do that, he needed support and people who could provide answers to his questions. He contacted 1-800-SWEEPER to see how they could help.  Mike says "the first reason I joined 1-800-SWEEPER was to learn from the owners who have been in the industry for years.  I have had some good calls with some Partners, and they have been kind enough to educate me on different areas of the business."
Mike is excited for his future in Orlando. The potential to grow the business is there and he's excited and up for the challenge.
Our Services Include:
Power Sweeping
Porter & Janitorial
Pressure Washing
General Maintenance
Landscape Maintenance
Clean Sweep of Orlando
P.O. Box 218
Winter Park, FL. 32789
Get an Estimate Today
To expedite your service request, call 1-800-793-3737 or
submit the form below
Major Metro Areas Served by Clean Sweep of Orlando Include: