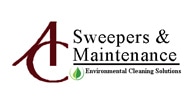 About Us
AC Sweepers & Maintenance, Inc.
AC Sweepers & Maintenance, Inc. offers street sweeping, parking lot sweeping, and property maintenance for private facilities and municipalities in the Atlanta, Georgia area.  AC Sweepers uses exceptionally maintained equipment to provide detailed, reliable service within our customers' budgets.  Whether you require construction sweeping, parking lot sweeping, special event sweeping, or even airport runway sweeping, the professionals from AC Sweeping can help.
Environmental compliance sweeping is a best practice for debris and storm- water management, and AC Sweepers can assist with implementing a structured sweeping program to meet your specific needs and budget.  From one time emergency sweeping to regularly scheduled cleanups, our equipment and well-trained staff is standing by to serve your cleanup needs, 24 hours a day, 365 days a year. Let us know how we can serve you…..and experience the difference!
"If a man is called to be a street sweeper, he should sweep streets even as Michelangelo painted, or Beethoven composed music, or Shakespeare wrote poetry. He should sweep streets so well that all the hosts of heaven and earth will pause to say, here lived a great street sweeper who did his job well."
Dr. Martin Luther King, Jr.
Street Sweeping, Parking Lot Sweeping, and Related Services
Road and Municipal Street Sweeping
General Construction Sweeping
HOA Sweeping
Retail Shopping Center, Mall, and Office Parking Lot Sweeping
State Highway and Interstate Sweeping
Airport Parking Lot and Runway Sweeping
Parking Deck Cleaning
Pressure Washing
Porter Service
Asphalt Maintenance & Repair
Partner Certifications and Affiliations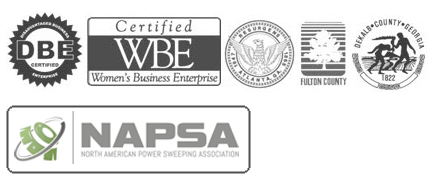 AC Sweepers & Maintenance, Inc.
3620 Kennesaw N. Industrial Parkway, Ste F
Kennesaw, GA 30144
Get an Estimate Today
To expedite your service request, call 1-800-793-3737 or
submit the form below
Major Metro Areas Served by AC Sweepers & Maintenance, Inc. Include: