Sweeping Service in Tacoma, WA & Surrounding Areas
Your Tacoma, WA Area Sweeping Services Company

All Pride Commercial Property Services
8228 S 206th St
Kent, WA 98032
CALL US: 1-800-758-1381
All Pride Commercial Property Services is the leading retail, corporate and industrial property service provider in the Tacoma Washington / Greater Seattle Area.  All Pride is the place you can come to have all of your property needs met by professionals committed to quality work.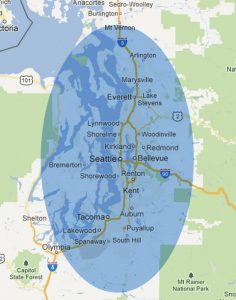 Your property's parking area is where customers get their "first impression."  Keeping the parking area clean is one of the best ways to make sure that first impression will be a positive one. Sand, dirt and other trash are also abrasive and will damage the pavement, sealcoat and striping at your property.  Our professionally managed team operating powered vacuum sweeping equipment will remove these particulates and significantly increase the lifespan of your parking area.
As a partner with you and your company, we will maintain your property to the highest standards, provide dependable service and help make your business more successful and profitable!
All Pride is committed to using green practices and reducing the environmental impact of our cleaning services in and around the Tacoma and Seattle WA area. We exclusively use ALTERNATIVE FUEL, single engine-hydraulic powered sweepers on your property.  This means less emissions emitted, less fuel burned, and a minimized environmental impact.  We are the only sweeping company in the Puget Sound using alternative fuel, single engine NiteHawk parking lot sweepers. By using the latest alternative fuel sweepers and 4-stroke backpack blowers, we significantly reduce both noise pollution and equipment emissions.
SWEEPING SERVICES WE PROVIDE IN TACOMA, WA AND SURROUNDING AREAS
Commercial Sweeping
Municipal Sweeping
Parking Area Sweeping
Pervious Concrete Maintenance
Porter (Cleanup) Services
Pressure Washing
Certifications and Affiliations

GET AN ESTIMATE TODAY
Call Us: 1-800-758-1381
or send in the form below
Street sweeper service throughout the Tacoma, Washington metro area including:
Auburn, WA
Bonney Lake, WA
Buckley, WA
Eatonville, WA
Federal Way, WA
Gig Harbor, WA
Graham, WA
Kent, WA
Lakewood, WA
Puyallup, WA
Roy, WA
Spanaway, WA
Sumner, WA
Tacoma, WA
University Place, WA