About Us
Sweep Masters
Maintenance matters! Since 1998, Sweep Masters has specialized in commercial, industrial and municipal street and parking lot sweeping. Sweep Masters is the preferred sweeping service on the Mississippi Gulf Coast. Our service area extends from Waveland, MS to Daphne, AL.  Our full-service exterior maintenance approach also provides parking garage sweeping and commercial / industrial power washing.
Our Service Area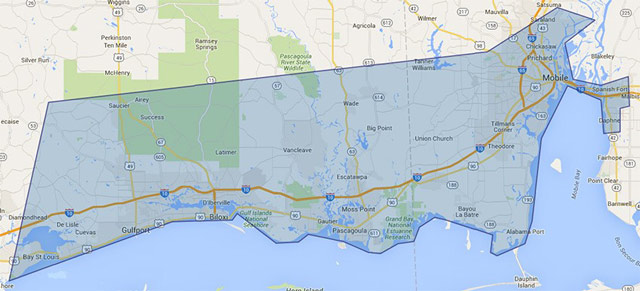 An important piece in maintaining your business' public image is keeping a clean and inviting appearance at your storefront. This gives residents and guests a great first impression. By properly maintaining your property's paved areas, you also protect the parking area from vegetation growth. A well cleaned parking lot will stay in good condition with potholes less likely to develop.
We are proud to be recognized as a Certified Sweeping Company by our trade organization the North American Power Sweeping Association (NAPSA.) Our NAPSA Certification provides us with access to high-quality pavement maintenance services, tools, and equipment to ensure we complete your job according to strict industry guidelines.
Sweep Masters also help successfully maintain active roadways outside construction zones in the Mississippi Gulf Coast area by using what the EPA refers to as best management practices for dirt track-out from construction sites.
Some federal, state and local regulations require that you regularly sweep construction sites to follow public and environmental safety standards. When you choose to use our services, we eliminate dirt and potentially toxic materials from roads that could otherwise pollute the environment through runoff into waterways.
Our parking lot sweeping services includes vacuum sweeping the parking lot, blowing off the sidewalks, under cars and corners, and keeping the grass areas free of debris.  Our full service approach to maintaining your parking areas means we can also change the trash can liners at an additional fee.
Whether you need nightly sweeping, or just once-a-month service, we customize our services to meet your needs.
Services We Provide:
Street Sweeping
Parking Lot Sweeping
Parking Garage Sweeping
Subdivision Sweeping
Construction Site Sweeping
24-hour Emergency Service
Hot Water Pressure Washing
Inspection Reports
Affiliate Certifications and Affiliations

Sweep Masters - Moss Point, Mississippi
6530 Shortcut Road Moss Point, Mississippi 39563
Get an Estimate Today
To expedite your service request, call 1-800-793-3737 or
submit the form below