Sweeping Services -
1-800-SWEEPER of Camden, NJ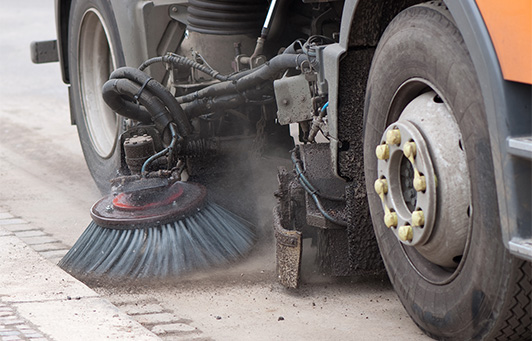 Contact us for your sweeping needs
Request an Estimate Today
Connect with a professional to
talk about your sweeping needs.
Your Camden, NJ Sweeping Service Company

Thesing Power Sweeping, Inc.
224 Blackwood Barnsboro
Sewel, NJ 08080
CALL US: 1-800-758-1381
Thesing, New Jersey Sweeping Service Company
Established in 1988, Thesing Power Sweeping, Inc provides street sweeping and parking lot sweeping services to a wide range of markets, including the new home construction, heavy highway construction and repaving, retail and commercial parking lots, municipalities and more. In addition to parking lot sweeping and street sweeping, Thesing Power Sweeping also offers power washing, mulch blowing, snowplowing, general maintenance, asphalt maintenance, concrete resurfacing and concrete repair.
Thesing Power Sweeping's fleet and scope of service has evolved from alone one bottom dump Mobil M-9 to 17 street sweepers, six pick up trucks with snow plows, 3 power washing trailers (two are reclamation units), a concrete installation and concrete resurfacing crew. Services were expanded beyond street sweeping in 2008 in response the "Great Recession" and also include line striping, seal coating, crack filling, silt fence installation and other soil erosion control methods for the greater Camden, New Jersey area.
SWEEPING SERVICES WE PROVIDE IN Camden, NJ AND OTHER SURROUNDING AREAS
Construction Site Sweeping
Pavement and Milling Sweeping
Parking Lot Power Sweeping
Night Sweeping for Parking Lots and Office Complexes
Factory & Warehouse Sweeping
Catch Basin Cleaning
City and County Municipal Street Sweeping
Certifications and Affiliations
Thesing Power Sweeping, Inc.
Servicing: New Jersey